I enjoy having company at my home studio, so if you can make the trip to South Boston, please call ahead and make arrangements to stop by and see me.

        I'll be able to show you all my work, and, if time permits, we could talk further at any of the nearby restaurants. Discovering the stories of the people that purchase my paintings is a rewarding experience for me.

        The home studio is located at 1201 E. Hyco Rd. You can click on the map at the right for more detailed directions.



        If you do want to visit, you could just plan a day trip or you may want to consider staying at Berry Hill Plantation Resort for an overnight stay. This is a restored mansion with historic grounds that cover over 750 acres along the beautiful Dan River.

        Click on the photo at the right to go to their Web site for more information.




        If you would like to discover more about the historic sites, homes and plantations of Halifax County, visit our tourism Web site where, in addition to the Driving and Walking Tours, you can get the information you may want on the area's restaurants, lodging, and shopping.







When you visit, you absolutely must see "The Prizery". It is owned by the The Community Arts Center Foundation and is home for the local artists belonging to the Parsons-Bruce Art Association . Here, we can not only show our work in a high-security exhibit area, but we also have our own teaching room.

As well as being a Welcome Center for tourist, it also has a 300+ seat auditorium, The Chastain Theatre, for the performing arts.

Visit their Web site for more information and their events schedule.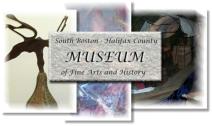 The South Boston/Halifax County Museum of Fine Arts and History is another great place to visit when coming to town. Here you'll find antiques, works of art, books, and physical items that are historically significant to the past, present, and future heritage of Halifax County and Southside Virginia. Prints of mine as well as other local artists are on sale in their Gift Shop.